Current - 2004 - 2003 - Pre-2003
Our reviewers are the peers of Adelaide Theatre. They are fellow audience members, directors, actors, committee members, etc, with experience in journalism.
Like other audience members, their reviews/opinions are given on overall enjoyment and value for money so that you may make a more informed choice.
Shows: Weimar Cabaret Fringe 2004
Jan - Jun 2004 ... Jul - Dec 2004

Adelaide Festival 2004 ... Adelaide Fringe 2004 ... Weimar Cabaret Fringe 2004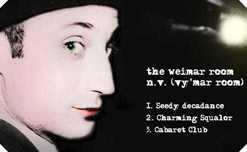 Chix-R-Go & In A Class Of Their Own
Fluffyland & Ms Josephine's Kabaret Misdemeanours
If It Feels Good It Must Be Right
Impro Now, Tango On The Edge, The Wizard And Oz
La Pasionaria & Glitler!
Pounding Nails Into The Floor With My Forehead
Texettes Cabsav
The Dreams Of The Chicken, Eva, Bubblegum Neurotica, Berlin Cabaret, The Dolls & Tiju Wannabes
You Gotta Have Hart, Big Girls Don't Cry They Belt The Blues & Magic Suitcase

IF IT FEELS GOOD IT MUST BE RIGHT
The Weimar Room
Thursday, 1 July 2004


Review by Stephanie Johnson

The joys and angst of love are the theme of Alexandra Sebastions' selection of songs from small off-Broadway musicals.

Alexandra shares her personal stories and weaves her way through a selection of songs that capture the longings and pains of matters of the heart.

The end result is a moving and astounding performance with accompaniment by Kane Wheatley.

Highlights include her rendition of "Thank You For Being a Friend" and "I Will Be Loved Tonight".

This is another high spot in the Cabaret Fringe to be experienced by anyone who has undergone the emotional highs and lows of romantic love.
IMPRO NOW, TANGO ON THE EDGE, THE WIZARD AND OZ
The Weimar Room
Saturday 26th June, 2004


Review by Simon Slade

Impro NOW

With suggestions from the audience, eight performers improvise their way from Whitmore Square to the wardrobe of Imelda Marcos. Along the way, the less successful are "absorbed" by the winners of each round, creating an interesting variation on the fixed team format of Theatresports. An MC and the Judge keep the show moving along, and the variety of games keeps the interest up.

The performers have varying levels of experience, but with the audience offering ever more challenging topics, even the seasoned improvisers are sometimes stumped - and of course that is half the fun of this type of show.

Aided only by their wit, a table of unusual props and a rack of simple costumes, they manage to convince us that the meat slicer operator has lost an arm, firing hostages from cannon can solve ammunition shortages, and that earthworms make good pets. All that in a show that is G rated.

If you are going to the Cabaret Fringe Closing Night Party Extravaganza, this show is a great reason to get there early.

Tango on the Edge

This show has two distinct acts, blended into a performance that takes place on both the stage and the dance floor.

The six dancers from Southern Cross Tango hit the floor and create a montage of scenes from a nightclub that could well be the Weimar Room itself. Exploring romance, passion, and couplings in a performance with no dialogue, the dancers act out scenes at their tables and on the dance floor. This is an effective technique to add dramatic interest to the dance performances without detracting from them.

Choice of recorded music is varied and the choreography in keeping with the Argentine influence, although perhaps lacking some variety at times.

The second act runs straight on from the first, as the tango ensemble "Quartito Azul" takes to the stage. Four talented musicians play Argentine tangos from fast and furious to slow and romantic.

The dancers have not left the dance floor, though, and now dance not only with each other, but also with anyone else who wants to join in. At last a show with audience participation that is uplifting rather than demeaning!

The Wizard and Oz

The audience notices Andrew Farrell in the Weimar Room. It is hard not to, as he is a tall figure with a Gandalf beard in orange robes! You get the feeling that he might be the Wizard in the show that is due to start soon.

When he takes his seat at the piano, it becomes obvious that the nickname means something else as well - he indeed works his magic with the keys, and casts his spell over the audience.

David McMillan joins him, working his own magic of vocals and guitar. These men produce some of the finest music in diverse styles that you are ever likely to hear.

The instrumental "Catherine Of Aragon" by Rick Wakeman, Johann Pachelbel's "Canon in D", and on to some flamenco.

Even that 1987 hit "At this Moment" by Billy Vera and the Beaters. These men are playing music that I do not like and making me enjoy it!

Wizard and Oz are closing the show each night at the Cabaret fringe. Do not leave without hearing them!
FLUFFYLAND & MS JOSEPHINE'S KABARET MISDEMEANOURS
The Weimar Room


Review by Rod Lewis

Fluffyland

No matter how stodgy we get in life, there is a big kid in all of us just waiting to escape. Likewise, no matter how free-spirited we remain, there will always be some kids we wished were caught in the condom.

In insane Fluffyland is a kids show for adults where big monsters give birth to little monsters and ham actors dissect stuffed toys filled with fake blood and lollies. It's gross, it's over the top and its pointless.

The boys of this troupe can't act and don't pretend to try. They simply take the mickey out of children's television with perhaps the dumbest show this Fringe. It's not all pain - there are a few genuine laughs in this very short show, mostly from the over-zealous host. For a no-brainer laugh, this could be what you're looking for.

Ms Josephine's Kabaret Misdemeanours

Winner of a Melbourne Cabaret Fringe award, Josephine Fisher's all-too-short cabaret is a smooth groove of excellent singing and bawdy babes. With the aid of Monica Tesselaar in a variety of roles (her Nun is a particularly highlight of the show) and multi-talented Enio Pozzebon on piano, the trio entertain with a tantalising collection of costumes and carry-ons.

Josephine seduces her audience with a tales of love and loneliness, mixing minor kink with camp to create a highly enjoyable, laugh-a-minute escapade smattered with some lyrical bliss. The cast mix well with the audience, easily blending adlibs with scripted dialogue to make the show more personal and unique.

One of the highlights of this Cabaret Fringe.
THE DREAMS OF THE CHICKEN, EVA, BUBBLEGUM NEUROTICA, BERLIN CABARET, THE DOLLS & TIJU WANNABES
The Weimar Room
Thursday 17th June, 2004


Review by Theresa Dolman

The Fringe Cabaret Festival at the Weimar Room is hosted by Mr Stephen Sheehan, winner of last year's Raw Comedy competition. "Anything can happen," says Sheehan as he opens the night. And it does.

The Dreams of the Chicken

What do chickens dream about? Argentinian born Da-Da-mented Hernan Palacio investigates by hypnotizing a live chicken, then placing it into a machine that lets him and his assistants see into the mind of the dozing chook.

The performers improvise dreams. Shanaka plays the bongos and helps with the translations from chicken to Argentinian to English. Cat sings and plays the piano. Bo pretends to be an egg (I think). Gen plays a harp. When the action slows, the performers supply the audience with shots of Mexican Mezcal or Tequila from water pistols.

The Dreams of the Chicken is an absurd, silly bit of fun from beginning to end.

Eva

Kate Fuller delivers a memorable musical tribute to the late folk/jazz singer Eva Cassidy, who died at the age of 33. Fuller's perfectly controlled voice and the heartfelt feelings and emotions came through hauntingly, with her wonderful renditions of songs including 'Over the Rainbow' and 'Falling Leaves'.

The experience is made more enjoyable by the delightful accompaniment of piano, cello, saxophone and flute, provided by the talented Bruce Hancock Trio.

If you only manage time to see one performance at the Cabaret Fringe, make it this one.

Bubblegum Neurotica

Bubblegum Chic can blow it out her arse enough to inflate a party balloon. She also blows bubblegum and latex bubbles from her mouth and sings (but not at the same time). The Erotic Neurotic Super Cleaner cleans up the resulting mess, sings, plays guitar, and accompanies Bubblegum Chic with kitchen utensils on the ironing board.

Bubblegum Neurotica has frequent costume changes and more props than talent.

Berlin Cabaret

Cabaret Festival MC Mr Stephen Sheehan transforms into Klaus the Cabaret Entertainer to transport the audience back to Berlin in the 1920s. He is joined by four exceptionally talented performers. Kate Fuller is delightful as the young newcomer 'Fifi'. Danielle Gawler, as the sultry 'Lola', might be slight of build but can really belt out a song. Matt Gilbertson as 'Hans' shows his versatility not only with vocals but also accompanying himself on accordion and wowing the audience with his energetic tap-dance routine. Hew Parham completes the troupe as the inept 'Rudi', adding another dimension to the performance when joining Sheehan in a rendition of Abbott and Costello's 'Who's on First' skit.

Accompanied by the Berlin Jazz Band, led by the talented Bruce Hancock, this is a very enjoyable night out, and not just during the Fringe. Catch it any Friday night at the Weimar room.

The Dolls

For lovers of both Country and Western music, you can't go wrong with The Dolls. Three very talented gals in chaps delivered lovely harmonies in both original songs and old favourites. In true Country style, their original songs told us tales of love gone wrong and reminded us of that first kiss not being quite what we expected. The final rendition of the not-quite-Country-or-Westerm 'Fat Bottom Girls' was a highlight.

Accompanied by drums, cello and guitar, these three vocal divas kept the audience entertained. If Country and/or Western is your thing, check out The Dolls.

Tiju-Wannabes

The Tiju-Wannbes comprise a gentleman in a suit playing the guitar, a woman in a gold crocheted mini-dress and knee-high boots playing the accordian, another woman in a Nana Mouscouri caftan on percussion, and another bloke in jeans and a beret on double bass. How could they possibly go wrong? The songs included 'The Lion Sleeps Tonight', a Herb Alpert Tijuana Brass piece, The Seeker's 'Morning Town Ride', and, of course, 'Kumbaya'. These very talented singer/musicians had a wonderful time, and so did the audience (who knew all the words).
TEXETTES CABSAV
The Weimar Room
Thursday 17th June, 2004


Review by Andy Ahrens

Texettes Cabsav is a musical trio who play a varied form of music with influences from soul, blues, pop and country. On this occasion they used a single acoustic guitar to accompany the voices.

The two female voices were pleasant in their own right but occasionally their harmonies didn't blend together smoothly. There were some enjoyable highlights including, 'The Booze Song' and in particular, 'The Song about the Blues'.

It would have been good to hear more from the male voice who after the first song resorted to guitar accompaniment for the remaining six numbers.

The trio needed a bit of pizzazz in their performance. The emotion and mood was there but some of the catchy original songs would have benefited with a more 'let's go for it' attitude.

An unfortunate decision was to use an MC between songs who became a distraction to what otherwise was a pleasant performance. It would have been more welcoming if the trio introduced their own songs.
POUNDING NAILS INTO THE FLOOR WITH MY FOREHEAD
The Weimar Room
Thursday 17th June, 2004


Review by Andy Ahrens

Hew Parham performs some well chosen excerpts from American Playwright Eric Bogosian's satirical nightmare, 'Pounding Nails Into The Floor With My Forehead'.

Parham was a sensation in his one-man performance. His well paced monologues captured the audience, drawing them into his crazy array of tales and characterisations with ease. Vocally, his diction was well controlled in tone, intensity and timing. Only occasionally did he let some accents slip.

Amidst the humour and nonsense, some of the monologues carried very real sociological themes. The excerpts were well balanced although a word of warning that children shouldn't be encouraged to attend.

In his climatic monologue, Parham finally provides us with the solution to the age-old question, "Is the glass is half-full or half-empty?" This piece in particular can't be thrown away as simply a case of light hearted entertainment. The depth, philosophies and social comment underwriting this monologue are so real it literally stirs the soul.

Parham's consistent and skilled performance was highly entertaining. The promotion for this show is true, "this one man show will definitely be one of the talking points of the festival".
CHIX-R-GO & IN A CLASS OF THEIR OWN
The Weimar Room
Wednesday, 16, 2004


Review by Stephanie Johnson

Sexy, sassy songsters take to the Weimar room with style in Chix-R-Go.

Eight talented young singers and dancers sashay their way through a series of cabaret acts led by Mama Marmalade and an MC.

The young women are all talented and polished in their presentation and make good use of the space in the Weimar Room.

The songs are standard fare from musicals such as "Cabaret" and "Chicago" with a few cute variations on the lyrics. Highlights include renditions of "Mein Herr", "Foxy Tart" and the "Cell Block Tango".

Chix-R-Go is an enjoyable and energetic start for an evening of cabaret let down only by the use of recorded music, which at times drowned out the singers. Otherwise, go girls!

The eclectic mix of Cabaret Fringe events meant that the pace set by Chix-R-Go took a sharp turn with the following act "In a Class of Their Own".

As a result of the change of pace, Chris Shepherd struggled a little as he started his one-man act as a dance teacher fronting an imaginary group of "students" - Anna Pavlova, Gene Kelly, Fred Astaire and Ginger Rogers, to name a few. Chris seemed almost as nonplussed as his audience at times.

Nevertheless his act was clever and witty and his talent shone through. He finished with finesse. Anyone who teaches, has taught or studied dance would enjoy this act.
YOU GOTTA HAVE HART, BIG GIRLS DON'T CRY THEY BELT THE BLUES & MAGIC SUITCASE
The Weimar Room
Sunday 13 June


Review by Fran Edwards

You Gotta Have Hart:
Nine young songsters singing nine songs by Lorenz Hart and Richard Rogers, and believe me, if these guys and girls were singing for their supper they would not go hungry. Each of the singers does justice to the witty lyrics and they perform with style. Particular favourites were "It never entered my mind" and "Mountain Greenery". There are some great solo voices amongst this group, together they are dynamite. The only complaint would be it was not long enough - we need more Hart.

Big Girls Don't Cry They Belt the Blues:
There is no doubt Suzie Farrugia has a big bluesy voice and she knows how to use it. Accompanied very ably by Merrilyn Air on the piano the act showed promise. Unfortunately Ms Farrugia's accent causes her huge diction problems which seem to be traditional with blues singers. During the patter her diction was so bad as to make her almost incoherent. A later song asked the question "Am I boring you" and sadly by then she was.

Magic Suitcase:
What a delightful surprise to find the next act was the delightful Philippe and his Magic Suitcase. Philippe presents a sophisticated juggling act which impresses and amuses. First he played with glass balls which seemed to defy gravity and the audience was mesmerised watching him rotate up to eight of these balls on his hands. He followed this with "lit" balls, which changed colour in his hands, and manipulating boxes. All of this was done with grace and charm. This one is worth a visit.
LA PASIONARIA & GLITLER!
The Weimar Room
Sunday 13 June


Review by Rod Lewis

The excitement of a Fringe festival stems from the uninhibited exploration of expression. The shackles that bind us to the more traditional fare of theatre are thrown aside. As an audience, we go with an anticipation of seeing the unknown, tasting the untested and interpreting the unfathomable.

Amongst this eclectic mix of mismatched mayhem is a stable diet of everyday shows to cater to the less adventurous patrons. Both can be great. Both can be awful. It's a suck-it-and-see approach that works more times than not. And that's the fun of the fare (sic).

The Weimar Room's reputation for the unusual is the perfect home for the Cabaret Fringe. A flurry of flamenco opened Sunday's night's line-up with the superb La Pasionaria. The gorgeous Liana brings the passion, despair and dreams of a lovelorn woman to life, accompanied by an uncredited but excellent ensemble. The Spanish songs are a delight, the guitarist is superb, the poetry is passionate and the gypsy fortune teller adds a touch of mysticism, although she's often too soft to be heard clearly.

On the flip side is Glitler, a revolution told in stop-start movement. A cast of three (Andy Petrusevics, Steve Wigg and Max Axe) mix Adolf Hitler with Garry Glitter to form the political party known only as 'e!'. "e is everything. e is everyone".or so it proclaims. But frankly, e is embarrassing.

The action is accompanied by a blurred film projected onto an unironed sheet, and distorted narration that was as loud as it was unintelligible.

More like a drunken fraternity skit than the political satire it's supposed to be, director Kolin Haynes keeps it fast and furious however. The show would probably work as an experiment for the senses if it were half the length. But as a play, a satire or a political statement, forget the escapism and escape while you can.

The evening is hosted by award-winning comedian Stephen Sheenen, who for once is upstaged by the interval act, Voula the Hoola Queen (aka performer Eli Green) and her talented accompanist Nick. Voula passes the time while sets are being changed, and her outrageous costumes and antics are a true highlight. To describe her 5-minute acts would be to pre-empt the fun but suffice to say they were enough to keep people seated instead of racing to the bar!
For more reviews, please visit the Messenger Newspaper website by clicking here
---
Adelaide Theatre Guide
Est. 1996 © 1996 Rod Lewis
Website design by Rod Lewis
Please read the copyright and disclaimerinformation