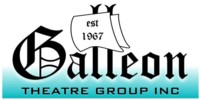 History
Origins | Previous Venues | Past Productions
Welcome to the Galleon History page, detailing our past, including venues and productions.
As is often the case, our records from the early days weren't always clear or complete. It's been a mammoth task trying to compile a list of our earlier productions and I'm sure there are still some details missing.
Thankfully, in today's world history is taken a little more seriously and consequently records are kept in better order for future generations to examine and enjoy. Nonetheless, if you or anyone you know happens to come across something from our past like a poster, programme, etc., please let us know. You may be able to fill in the blanks for us.
In general, Galleon produces four seasons per year as well as an entry into the annual Hills Drama Festival, the latter taking place over the October long weekend. Our Hills Drama Festival entry is occasionally showcased as part of our third season each year to provide the Director and actors a chance to not only perform their show more than once but to receive audience feedback so the show can be fine-tuned if necessary before the competition.
We appreciate your interest in Galleon. If you would like more information on the Group or about how to get involved, please e-mail us.
And now, on with the shows!
The Galleon Theatre Group had its origins in Norwood where, under the name of the Mirthmakers Theatre Group it presented a number of musical revues. In 1967 the Group turned to the production of plays and became the Galleon Theatre Group Inc., relocating to the Marino Community Hall.
In 1978, after 11 years and 37 shows, Galleon moved to the Pioneer Memorial Hall in Seacombe Gardens. In the past 30 years, the Group has grown from being virtually unknown to seeing the "Full House" sign displayed regularly.
In 2001, Galleon moved to the new and exciting Marion Cultural Centre where we continue to offer productions in a cabaret style seating. This move has brought new and exciting adventures to Galleon and we all look forward to the new facilities and all it has to offer.
Complimentary sherry is served to arriving audience members and they are personally shown to their table by our front of house volunteers - a system that a number of other groups have now taken up.
We are proud of our reputation for presenting one of the biggest variety of shows in Adelaide from comedy to horror; pantomime to adult-only drama. The teamwork and esprit de corp that has developed between our members speaks for itself, as does the constant feedback we receive from our regular audiences.
Our members vary in age from 10 to 60+ and new members are always welcomed.
Members not only receive training in all areas of theatre that hold interest for them but are encouraged to expand their skills through occasional free workshops and hands-on experience.
1967 - 1978
Marino Community Hall, Newland Avenue, Marino
1978 - 2001
Pioneer Memorial Hall, cnr Sturt & Morphett Roads, Seacombe Gardens**
2001 - 2004
Domain Theatre, Marion Cultural Centre
An ** symbolises a new locally written show, predominantly written by one of our members.
As you will see, we relish the opportunity to support our members and original works by any local playwrights. Without exception, we are pleased to say that ALL of our home-grown shows have been immensely popular, some of them even winning awards.
2003
Daylight Saving
Fool's Paradise
2002
Biting the Bullet
Cody Vs Cody
Bums on Seats
2001
Wild Goose Chase
We Found Love and an Exquisite Set of Porcelain Figurines Aboard the SS Farndale Avenue.
2000
Run for your Wife
My Fat Friend
Table Manners
1999
I'll Get My Man
Let Them Eat Cake/Be of Good Hope/The Earnestness of Being Important
Casablanket (reprise)**
1998
Move Over Mrs Markham
Loot
Absent Friends
Mass Appeal
1997
Michael Flatulence, Lord of the (bush)Dance**
Big Bad Mouse
Mr Foot / Mary MacKillop: Saint or Sinner?**
1996
Ira Levin's Deathtrap
Dark Day At Deadhorse Saloon (updated reprise)**
It Takes Two To Tango (radio play)**
Skeleton In The Closet / The Other** (Hills Drama)
It's My Party**
1995
The Odd Couple
Murder, Mayhem & Mirth**
Once There Was A War**
To Burn A Witch (Hills Drama) / Brothers** (SAWT) / Bang! You're Dead
Galleon hosts Claire Leahy's Music Hall Show**
1994
Strictly Ballsroom (sic)**
The Exorcism
The Furtive Fortunes Of Fickle Fate / Sorry, Wrong Number (Hills Drama)
When The Lion Roared - A Tribute To MGM Musicals**
1993
The Dresser
The Ghost Train
And Jack Fell Down (Hills Drama) / Let Me In
Happy Birthday
1992
Dark Day At Deadhorse Saloon**
The Dumb Waiter / The Chastening (Hills Drama) / From Five To
Five-Thirty (reprise)
Dusa, Fish, Stas And Vi
Murder In The Cabaret** (co-production with the Adelaide Sunshine Chorus)
Casablanket**
1991
Katie's Kitten Klub**
The Winslow Boy
From Five To Five-Thirty (Hills Drama) The Happy-Go-Lucky Revue**
1990
I Am A Camera
Busybody (reprise)
Song & Tap Roadshow**
Rock Bottom (Hills Drama)
Greasepaint Galore**
The Farndale Avenue Housing Estate Townswomen's Guild Dramatic Society's Production Of "Macbeth"
1989
Cemetaries Are A Grave Matter / The Followers (reprise) / The Wildflowering Of Chastity
Murder Mistaken
Dimboola
The Coroner's Report (Hills Drama)
Song & Tap**
1988
The Shifting Heart
Olde Time Music Hall Show**
Wild Goose Chase
The Followers (Hills Drama)
The Magic Duck
1987
Devil May Care
Johnny Belinda
Olde Time Music Hall Show**
Droopy To The Rescue (or "Stout-Hearted Dog")
1986
Goodnight, Mrs Puffin
Bellamy
A Light Vision
Hans, The Witch And The Goblin (reprise)
1985
Dead On Nine
Mother Goose (co-production with the Venture Theatre Company)
1984
Happy Days
Tableaux
Off A Duck's Back
1983
Women Can Do Anything / Fame / As One Woman To Another / Mrs Dooley's
Table
Temptation Sordid (or "Virtue Unrewarded")
1982
Trap For A Lonely Man
Right Bed, Wrong Husband
1981
Thriller Of The Year
A Murder Has Been Arranged
Beside The Seaside
On Monday Next
1980
No Time For Fig-Leaves
Something To Hide
1979
Death Takes A Holiday
Breath Of Spring
Hans, The Witch And The Goblin
1978
The Cocktail Party
The Touch Of Fear (reprise)
1977
The Last Word
Devil May Care
1976
They Came To A City
Dangerous Corner
I'll Get My Man
There Was A Crooked Man
1975
Prophesy To The Wind
Wolf's Clothing
House On The Cliff
The Spaceship Bwainwave (sic)
1974
Busybody
The Sacred Flame
The Late Edwina Black
Little Red Riding Hood
Other Productions - Year Unknown
Records indicate that the following shows were also produced by Galleon Theatre Group in the early years, however there is no indication of what year these productions took place.
A Murder Has Been Arranged
Trial And Error
Gas Light
Prophesd To The Mind (sic)
Tabitha
The Touch Of Fear
The Linden Tree
The Whistling Wizard
The First Fish
Tom In Little Tooting