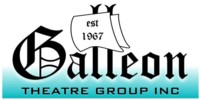 Membership
Opportunities | Benefits | How to join
As with all groups or organisations, members are bound by the Constitution of the Group, which is available on request. Membership fees are due each February at the Annual General Meeting and a number of options are available to chose from:
Single membership (yourself only): $15pa

Double membership (2 adults): $20pa

Temporary membership (one production only): $10pa
Theatre offers a wide variety of opportunities, all of which are available through the Galleon Theatre Group. New members seeking experience will be trained according to need and interest, whereas those with the necessary knowledge will be thrown in the deep end!
Take your pick from:
Best of all, no experience is necessary!
That's right! One of the great things about community theatre is that you get "on-the-job" training. After all, the more people we train up, the easier it is for us to put on a show!. And since people come and go, there's ALWAYS a need for new people.
Advance notice of all productions
Notice of auditions, workshops, working bees & other events
Insurance protection during your involvement with all Group activities
On-the-job training for any areas of interest
The right to vote and/or stand for election at the AGM or a special general meeting
Free admission to all productions during the length of your membership
If you live locally and want to become a member of one of Adelaide's premiere theatre groups, we'd love to hear from you.
Alternatively, talk to one of the Front of House staff members when you come to see a show or book your tickets.