Concerts in the dark....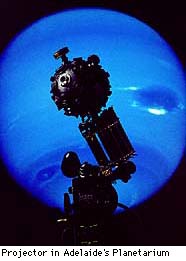 Don't whisper a secret in the dark of the planetarium. Everyone will hear you....
The first planetarium concert was held in February 1998 at the planetarium in Adelaide, South Australia. Live music is played in the planetarium's crystal acoustics as the stars drift overhead, interspersed by a description of Adelaide's night sky. The audience recline in comfortable chairs. This is a relaxing, intimate experience. You may well find that one of the musicians is seated next to you. Sink back into your chair when the lights go out, let your mind go into orbit as you listen to the quiet music and gaze at the stars.
The series originated when astronomer Michael O'Leary asked his wife, violinist Maxine Komlos to play a tune in the planetarium. The acoustics were so perfect and the effect of the dark and the stars so magical they decided to hold a concert. It was such a success the concert series "Planetarium Proms" was born.
The concerts are not weather dependent as they are held inside in the planetarium, a circular room with a domed ceiling. The concerts have proved very popular and are usually sold out. The concerts begin with an introduction to the planetarium by Michael O'Leary. Your eyes gradually adapt to the darkened surroundings and the stars appear. The musicians present a selection of items as the stars drift overhead.
Between selections Michael O'Leary will take you on a tour of the stars visible in the Adelaide sky.
The planetarium projector, the heart of the system, displays all the stars visible to the unaided eye from the southern hemisphere, and simulates the apparent motion of the stars as the Earth rotates. The effect is so realistic, it is like being out under the stars away from the city lights.
The next series The "Sun" series will run on every Friday and Saturday of March 2001 as part of the "On the Fringe" Salisbury Festival. The "Sun" series 7.45 pm till 9 pm - Lights out 7.45
Friday 2nd March Rosemary Howes, classical harp
Rosemary is a well known Adelaide musician, performing her harp for ballet and musicals, as well as many social functions. Rosemary studied for Masters in Music at Griffin University, Queensland.She teaches harp at her studio in Hawthorn. Rosemary will play a programme of popular harp tunes.
Saturday 3rd March, Twa Corbies
popular Celtic trio Twa Corbies is a particularly melodious group. The 3 members sing in harmony, accompanying the songs with guitars, recorder and tin whistle. They perform and are well loved at many venues throughout the state of South Australia.
Friday 9th March Niall Brown, solo cello
Niall has won prizes in many European cello and chamber music competitions. He has held the posts of principal cello in the Scottish Ensemble and the Camerata Bern. He now divides his time between recitals, tutoring at the Elder Conservatorium, and cello in the Australian String Quartet.Niall will perform two Bach solo cello suites. If you love Bach don't miss this fine musician performing in our amazing concert venue.
Saturday 10th March, Agnes and Andras Tuske Flute,guitar and didgeridoo
Andras Tuske and his wife Agnes Tuske studied music in their native Hungary before continuing their studies at the Elder Conservatorium. They perform regularly around Adelaide and run the successful Paradise Music Centre. In 1999 Andras toured Europe giving solo guitar concerts. They will play a mixture of classical and romantic melodies plus an astounding trio, flute guitar and didgeridoo. Andras Tuske will play the guitar and didgeridoo simultaneously.
16th March, Hilary O'Neil Celtic harp and song
Hilary O'Neill, "First Lady of the Proms" studied singing in her native Ireland, in London and Germany. She has attracted wide acclaim for her beautiful singing voice. She sings for the State Opera and at many Adelaide functions. Hilary has performed many times at the Planetarium Proms to capacity audiences
Saturday 17th March, Jeanette Wormald song and guitar - Australian and Irish ballads,
To celebrate St Patrick's Day Jeanette Wormald will sing some Irish ballads and some of her original songs about the real Australia. She combines musical elements from Australia's Celtic and indigenous heritage and fuses them within a contemporary format to create music that is fresh, feminine and intrinsically Australian.Jeanette is based in the Riverland but travels around Australia to delight many types of audiences.
Friday 23rd March, Zephyr String Quartet Quartet favourites and jazz
The Zephyr quartet is a great asset to these concerts. It is rare indeed to find a string quartet able to perform their music in the dark by memory. The quartet perform public concerts with deep classical and modern programmes, but for the intimate planetarium series they choose a mixture of jazz and quartet favourites, arrangements with the Zephyr touch.
Saturday 24th March, Themis Fernando
Music of the Andes -Themis Fernando is an accomplished singer and song writer with a beautiful voice. He recorded 6 albums in his native Bolivia. Living in Australia for ten years, Fernando has produced 5 albums here. The latest is as a solo singer where you cam appreciate the quality of his voice and the magic sounds of the pan flute and other instruments traditional in the Andes.
Friday 30th March, Emma Luker, Li-anne and Michelle Lim, Violin virtuosi of Salisbury In keeping with the Salisbury "On the Fringe" festival the Planetarium has invited three superb young violinists who are based in the area. Adelaide has a reputation for producing top flight violinists such as Jane Peters and Adele Anthony. These three are on their way to carving highly successful musical careers. Emma Luker is fast becoming one of Adelaide's most popular violinists. She performs regularly around Adelaide in a variety of styles. She is a member of a Celtic band. Li-anne and Michelle Lim are students of Wilderness school. They have already a reputation of fine musicianship. Both study with Tatiana Kobetz and have achieved honours in Grade 8 AMEB violin. The concert includes the Bach double violin concerto and some Kreisler melodies.
Saturday 31st March , Songs from a Secret Garden and 2 White Stones - Two violins and keyboard
Rolf Lovland's beautiful haunting music has become increasingly popular since "Nocturne" won the Eurovision song contest in 1993. This group gives you the opportunity to hear the music from his two best selling CD's, "Songs from a Secret Garden" and "White Stones" in a live performance. Maxine Komlos and Rebekah Osborne are both professional violinists and teachers. Rafael Azariah is multi-talented, plays piano, guitar and violin, composes and teaches. This programme has proved very popular at the Planetarium Proms. It is always sold out early, sometimes demands for tickets requiring a repeat performance.
Bookings are essential. Phone or email Michael O'Leary:
(+61 8) 8353 5762 or oliri@ozemail.com.au
Then post your booking details with a cheque or money order to:
Planetarium Proms,
270 Sportsmans Drive, West Lakes, SA 5021
Tickets $16.50
These concerts sell out swiftly, so bookings are essential
Michael O'Leary, a former president of the Astronomical Society of SA, began his career as a navigator in the merchant navy. He has been lecturing for many years in astronomy for the WEA and at the Adelaide Planetarium.
His gives a lecture series, a ten week course "the Night Sky". Several times a year he gives a one-day course at the planetarium "the Way to the Stars" and a course on celestial navigation, "Navigating by the Stars"