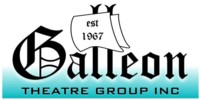 Contact
Thank you for your interest in the Galleon Theatre Group Inc.
Whether you have a question, comment or request, or would like to book tickets via e-mail*, we would love to hear from you.
Getting Involved:
To register your interest in getting involved with Galleon, you can fill out the form here.
E-mail:
kcac@ozemail.com.au
For e-mail bookings, please use the above e-mail address, or use the e-mail contact specified with specific production's listing on the Program Page - both options will accept your booking.
Web:
Our web URL/address is: http://come.to/galleon/
Post:
PO Box 198, Parkholme, 5043
Telephone:
Mr. Kym Clayton , President on (08) 8374 1596
International: +61 8 8374 1596